ARGENTINIAN GRILLED FLANK STEAK WITH CHIMICHURRI SAUCE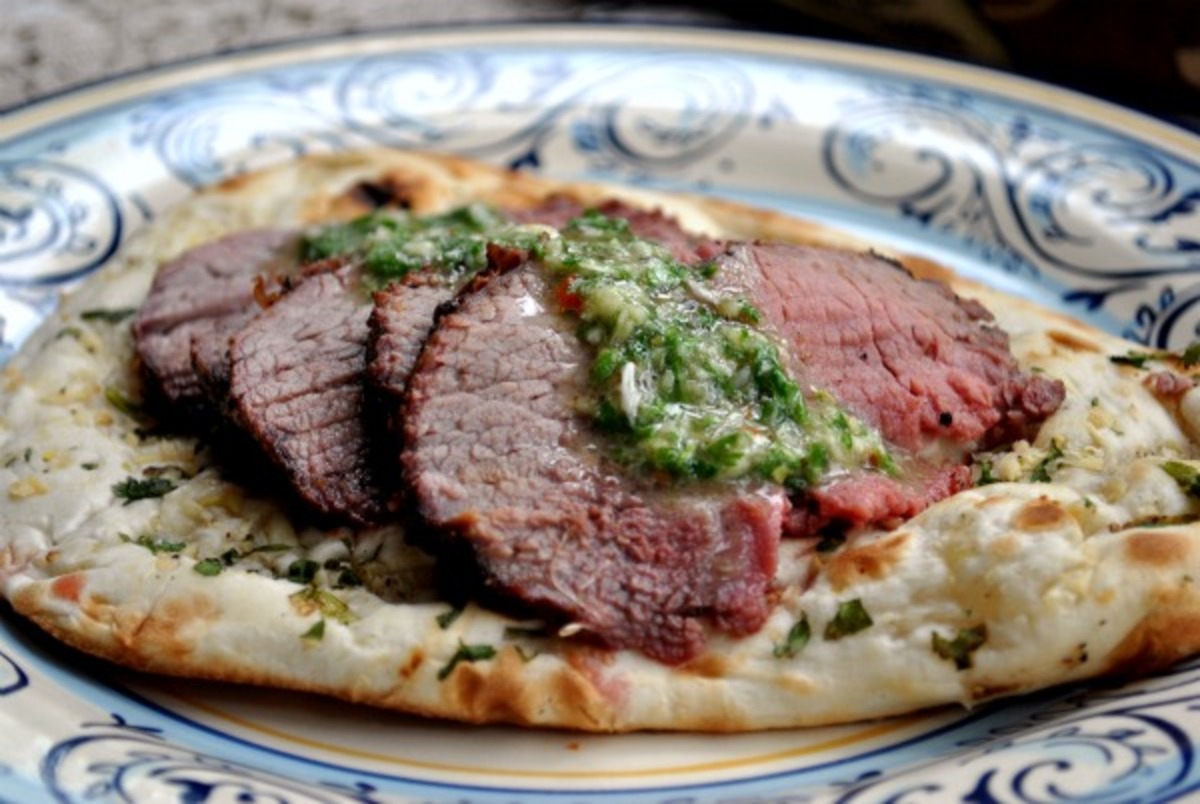 A simple grilled technique and flavorful, herb-packed sauce enliven flank steak. From Cook's Illustrated 2009 Summer Grilling issue.
Provided by ElleFirebrand
Categories Steak
Time 20m
Yield 4 serving(s)
Number Of Ingredients 11
Ingredients:
1 tablespoon vegetable oil
1 large red onion, cut into 1/2 inch thick rounds
salt & pepper, to taste
2 -3 lbs flank steaks
chimichurri sauce
1 cup parsley, packed
5 garlic cloves, peeled
1/2 cup olive oil
1/4 cup red wine vinegar
1/4 teaspoon red pepper flakes
1 teaspoon table salt
Steps:
Prepare grill according to manufacturer's instructions.
Place onion on baking sheet; brush both sides lightly with oil and season with salt and pepper.
Sprinkle both sides of steak with salt and pepper. Place onion and steak directly on grill. Grill onion, turning once, until streaked with dark grill marks, 10 to 12 minutes. Grill steak until well seared and dark brown on side, 5 to 7 minutes. Using tongs, flip steak; continuing grilling on other side until interior of meat is slightly less done than you want it to be when you eat it, 2 to 5 minutes more for rare or medium-rate.
Transfer steak to cutting board, cover loosely with foil and let rest for 5 minutes. Slice steak very thing on bias against the grain. Season with salt & pepper to taste. Place onions on platter and arrange meat over onions. Serve with Chimichurri Sauce.
For Chimichurri Sauce:.
Process parsley and garlic in the work bowl of a food processor fitted with a steel blade, stopping as necessary to scrape sides of bowl. Until ingredients are chopped fine. Transfer mixture to medium bowl. Whisk in oil, vinegar, pepper flakes, salt and 2 tablespoons water until thoroughly blended. Serve immediately.
ARGENTINIAN-STYLE BEEF WITH CHIMICHURRI SAUCE
Ingredients:
For Beef:
1/2 cup distilled white vinegar
1/4 cup vegetable oil
3/4 cup chopped sweet onion
1/2 cup chopped cilantro
2 tablespoons finely chopped garlic
2 teaspoons thyme leaves
1 1/2 teaspoons oregano leaves
1 1/2 teaspoons ground cumin
1 1/2 pounds beef tenderloin, cut into 1 1/2-inch pieces
For chimichurri:
1/4 cup olive oil
1/4 cup red-wine vinegar
1/4 cup finely chopped onion
2 tablespoons minced red bell pepper
1 1/2 teaspoons minced garlic
2 tablespoons chopped flat-leaf parsley
1 1/2 teaspoons oregano leaves
1/4 teaspoon hot red-pepper flakes
1 fresh bay leaf (optional), finely chopped
Equipment:
5 (12-inch) metal skewers
Steps:
Stir together all ingredients for beef with 1 1/2 teaspoons each of salt and pepper. Marinate, covered and chilled, 4 hours.
Meanwhile, stir together all chimichurri ingredients with 3/4 teaspoon salt and 1/2 teaspoon pepper and let stand at least 2 hours.
Prepare a grill for direct-heat cooking over medium-hot charcoal (medium-high heat for gas); see grilling procedure. Remove beef from marinade and rub off excess (discard marinade).
Skewer beef, leaving about 1/2 inch between pieces. Oil grill rack, then grill (covered if using a gas grill), turning occasionally, 4 to 5 minutes for medium-rare. Serve beef with chimichurri sauce.
Recently Recipes
More about "argentinian style beef with chimichurri sauce food"
Related Search