AWESOME APPLE PIE COOKIES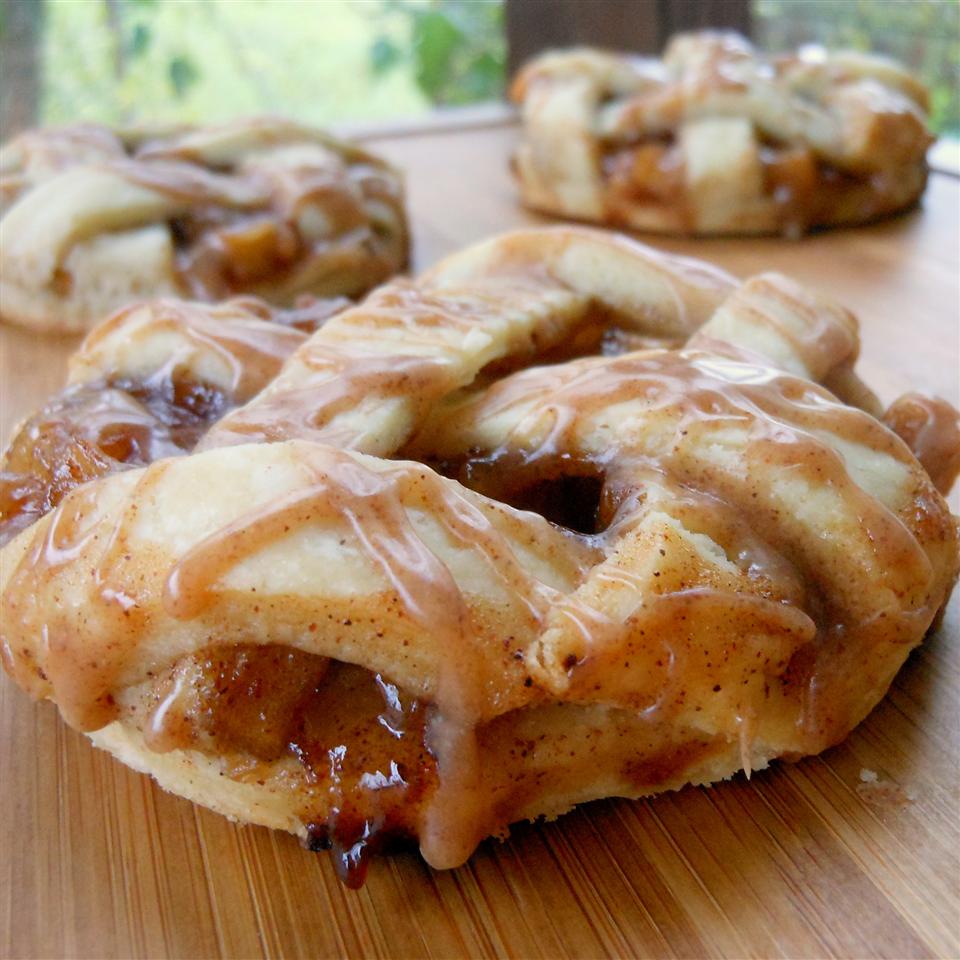 These mini-apple pies are a sure hit and a perfect use for apples in the fall. They look great on a cookie plate and taste great! If any apple mixture remains, it can be served warm over vanilla ice cream!
Provided by SunnyDaysNora
Categories Desserts Pies Apple Pie Recipes
Time 1h55m
Yield 24
Number Of Ingredients 19
Ingredients:
¼ cup butter
4 apples, peeled and diced into 1/4-inch cubes
½ cup brown sugar
¼ cup white sugar
1 ½ teaspoons lemon juice
1 ½ teaspoons ground cinnamon
½ teaspoon vanilla extract
¼ teaspoon salt
¼ teaspoon ground nutmeg
¼ teaspoon ground allspice
⅛ teaspoon ground cloves
2 tablespoons water
1 tablespoon cornstarch
4 sheets pie crust pastries
1 teaspoon all-purpose flour
¾ cup confectioners' sugar
1 teaspoon ground cinnamon
1 teaspoon vanilla extract
1 ½ tablespoons milk
Steps:
Preheat oven to 350 degrees F (175 degrees C).
Melt butter in a saucepan over medium heat. Add apples; toss until coated with butter. Stir in brown sugar, white sugar, lemon juice, 1 1/2 teaspoons cinnamon, 1/2 teaspoon vanilla extract, salt, nutmeg, allspice, and cloves; cook and stir until apples have softened and sugars have melted, about 5 minutes. Bring to a boil.
Combine water and cornstarch in a bowl. Stir cornstarch mixture into the apple mixture; cook and stir until apple mixture is thickened, about 5 minutes. Remove from heat; cool completely, about 20 minutes.
Roll out 1 sheet of pie crust on a work surface with a rolling pin; cover with half of the cooled apple mixture. Roll out a second sheet of pie crust with a rolling pin; slice into 1/2-inch wide strips with a sharp knife. Weave pie crust strips together over apple mixture to create a lattice top.
Flour a round cookie cutter or drinking glass. Press cookie cutter through dough to create 12 round pies. Transfer to a baking sheet.
Bake in the preheated oven until crust is cooked through a golden brown, about 20 minutes. Transfer to a wire rack to cool, about 10 minutes.
Repeat with remaining pie crusts and apple mixture; place on a second baking sheet. Bake in the oven until crust is cooked through a golden brown, about 20 minutes.
Combine confectioners' sugar and 1 teaspoon cinnamon in a mixing bowl; add 1 teaspoon vanilla extract. Stir in milk slowly until desired consistency is reached; drizzle over cooled pies.
Nutrition Facts : Calories 233.5 calories, Carbohydrate 27.8 g, Cholesterol 5.2 mg, Fat 12.9 g, Fiber 1.9 g, Protein 2.2 g, SaturatedFat 4 g, Sodium 209.8 mg, Sugar 11.4 g
Recently Recipes
More about "awesome apple pie cookies food"
Related Search