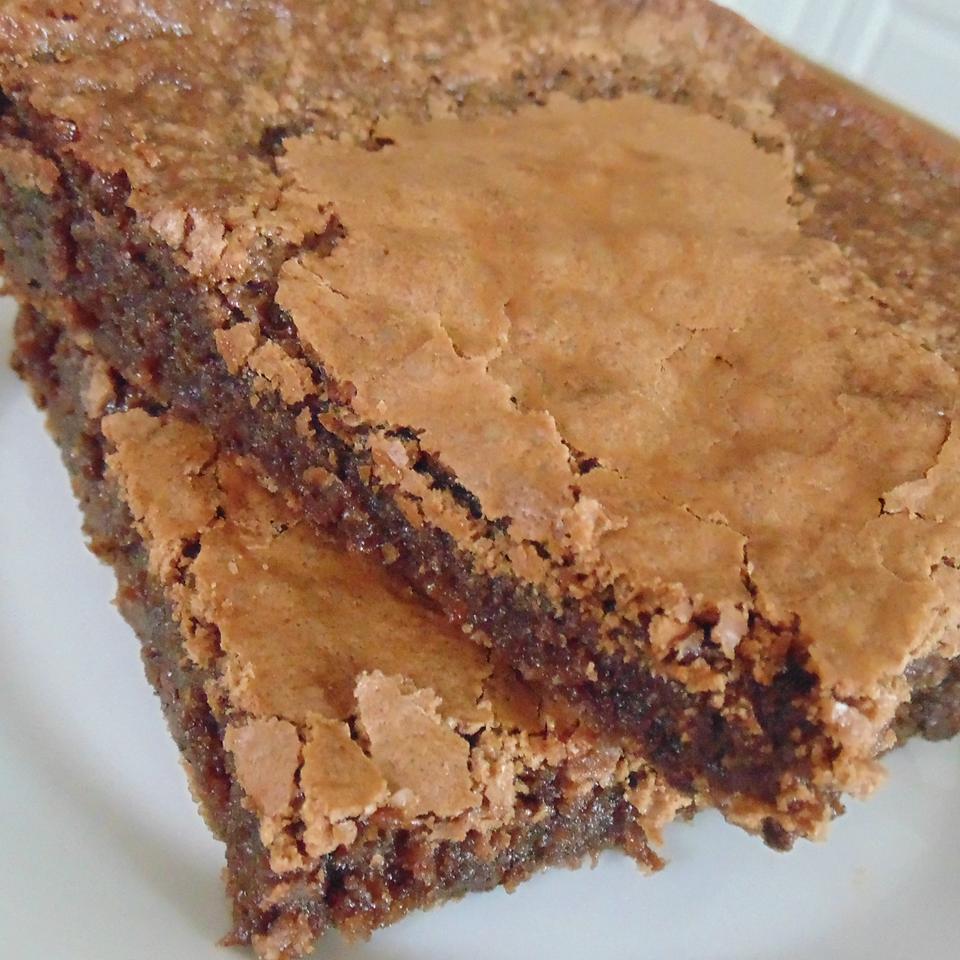 Ingredients:
¼ cup butter
2 (1 ounce) squares unsweetened chocolate
1 cup white sugar
⅓ cup sifted all-purpose flour
2 eggs
½ teaspoon salt
½ teaspoon vanilla extract
1 cup coarsely chopped walnuts
Steps:
Preheat oven to 350 degrees F (175 degrees C). Lightly grease an 8-inch square baking pan.
Melt butter and chocolate in top of a double boiler over simmering water, stirring frequently and scraping down the sides with a rubber spatula to avoid scorching. Remove top of double boiler and stir sugar, flour, eggs, salt, and vanilla extract into chocolate mixture until batter is smooth. Fold walnuts into batter; spread into the prepared pan.
Bake in the preheated oven until a toothpick inserted in the center comes out clean, about 25 minutes. Cut brownies while warm.
Nutrition Facts : Calories 159.2 calories, Carbohydrate 16.6 g, Cholesterol 30.9 mg, Fat 10.2 g, Fiber 1.2 g, Protein 2.7 g, SaturatedFat 3.6 g, Sodium 102.9 mg, Sugar 12.8 g
Everyone has a favorite brownie recipe or, more likely, makes brownies from a mix. This recipe is so easy that you can forgo the expensive mixes and make these from items in your pantry. This recipe is from "The Betty Feezor Show," a North Carolina home economics television program that ran from the 1950s until Betty's untimely death in the late 1970s.
Provided by D. Todd Miller
Categories Dessert
Time 35m
Yield 10-12 serving(s)
Number Of Ingredients 6
Ingredients:
1 cup butter or 1 cup margarine, melted
2 cups white sugar
1 teaspoon vanilla flavoring
2 eggs
1/2 cup cocoa powder
2 cups plain flour
Steps:
Preheat oven to 350 degrees F.
Cream butter (or margarine) and sugar. This works well with a mixer, but you can do it by hand.
After creaming, switch to a spoon for mixing. Brownies tend to get tough if worked too much. Add the vanilla and eggs and mix just until smooth.
Pour in cocoa powder and flour. Again, mix until smooth and lumps are broken up, but don't overmix or work the batter too much.
At this point, if you want to add extras such as nuts, raisins, or chocolate pieces, just fold those in easily.
Bake for 18-20 minutes in 2 pans size 8 inches by 8 inches. You can use a larger pan like the 9 x 9 and cook for a little longer, 25 to 30 minutes at 350 degrees F. If you use a single pan, then the Scratch Brownies are thicker.
Nutrition Facts : Calories 433.7, Fat 20.2, SaturatedFat 12.4, Cholesterol 86, Sodium 178.1, Carbohydrate 61.6, Fiber 2.1, Sugar 40.1, Protein 4.9
Recently Recipes
More about "brownies from scratch food"
Related Search