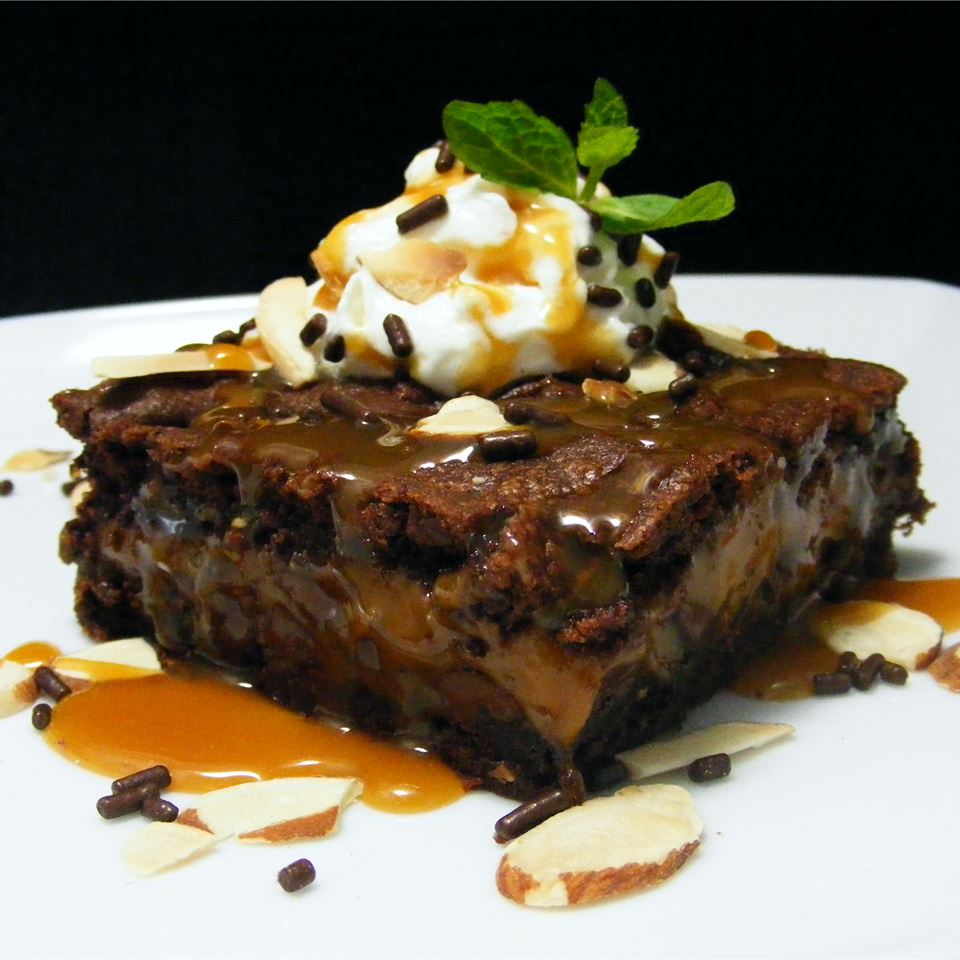 This is an older recipe. It makes a wonderful chocolate brownie with a chewy caramel layer in the middle.
Provided by Mary Lewno
Categories Desserts Cookies Cake Mix Cookie Recipes
Time 45m
Yield 24
Number Of Ingredients 6
Ingredients:
1 (14 ounce) package individually wrapped caramels, unwrapped
⅓ cup evaporated milk
1 (18.25 ounce) package chocolate cake mix
¾ cup butter, melted
⅓ cup evaporated milk
1 cup semisweet chocolate chips
Steps:
Preheat oven to 350 degrees F (175 degrees C). In a heavy saucepan, combine caramels and 1/3 cup of evaporated milk. Cook over low heat, stirring constantly until smooth; set aside. Grease a 9x13 inch pan.
In a large bowl, stir together the cake mix, melted butter and 1/3 cup of evaporated milk by hand until dough holds together. Press half of the dough into the prepared pan, reserving the rest.
Bake for 10 minutes in the preheated oven. Remove from the oven and sprinkle the chocolate chips over the crust, pour the caramel mixture evenly over the chips. Crumble the remaining dough over the caramel layer and return to the oven.
Bake for an additional 15 to 18 minutes in the preheated oven. Cool in refrigerator to set the caramel before cutting into bars.
Nutrition Facts : Calories 248.4 calories, Carbohydrate 33.4 g, Cholesterol 18.4 mg, Fat 13.1 g, Fiber 0.9 g, Protein 2.9 g, SaturatedFat 6.3 g, Sodium 266.8 mg, Sugar 23.5 g
Recently Recipes
More about "caramel brownies iii food"
Related Search