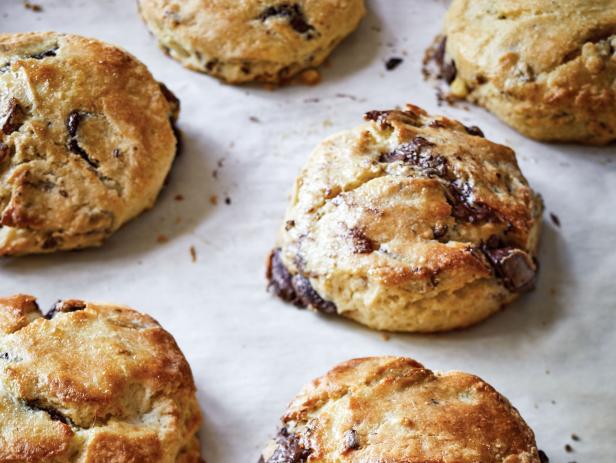 Okay, I have a thing about scones. When they're good, they're light and flaky and full of flavor. Be sure to use really good chocolate that you dice by hand so there are puddles of melted chocolate when you bite into them. And trust me, four teaspoons of Diamond Crystal kosher salt may sound like a lot but it makes all the difference.
Provided by Ina Garten
Yield makes 14 to 16 large scones
Number Of Ingredients 10
Ingredients:
3 tablespoons plus 4 cups all-purpose flour, divided
1 1/2 cups medium-diced bittersweet chocolate, such as Lindt (8 ounces)
1 cup chopped pecans
2 tablespoons sugar, plus additional for sprinkling
2 tablespoons baking powder
4 teaspoons kosher salt
3/4 pound cold unsalted butter, 1/2-inch diced
1 cup cold heavy cream
4 extra-large eggs, lightly beaten
1 egg beaten with 2 tablespoons water or cream, for egg wash
Steps:
Preheat the oven to 400 degrees. Arrange two racks evenly spaced in the oven. Line two sheet pans with parchment paper.
In a small bowl, combine the 3 tablespoons flour with the chocolate and pecans and set aside.
In the bowl of an electric mixer fitted with the paddle attachment, combine the 4 cups flour, the sugar, baking powder, and salt. Add the butter and, with the mixer on low speed, blend until the butter is the size of peas. Measure the cream in a 2-cup glass measuring cup, add the eggs, and beat until combined. With the mixer still on low, pour the wet mixture into the dry mixture and combine just until blended. Add the chocolate and pecan mixture and mix just until combined. The dough will be very sticky.
Dump the dough out onto a very well-floured surface and knead it a few times to be sure the chocolate and pecans are well distributed, adding a little flour so the dough doesn't stick to the board. Flour your hands and a rolling pin and roll the dough 3/4 to 1 inch thick. You should see lumps of butter in the dough. Cut the dough with a 3-inch plain round cutter and place the scones on the prepared sheet pans. Reroll the scraps and cut out more scones. Brush the tops with the egg wash, sprinkle with sugar, and bake for 20 minutes, switching the pans halfway through, until the tops are lightly browned and the insides are fully baked. Serve warm or at room temperature.
Enjoy these delicious chocolate scones made using Original Bisquick® mix and drizzled with whipping cream - a perfect treat.
Provided by By Betty Crocker Kitchens
Categories Side Dish
Time 40m
Yield 10
Number Of Ingredients 9
Ingredients:
2 cups Original Bisquick™ mix
1/4 cup sugar
3 tablespoons unsweetened dark baking cocoa
1/3 cup cold butter
1 1/2 cups milk chocolate chips
1/3 cup whipping cream
2 teaspoons vanilla
1 egg
2 tablespoons whipping cream
Steps:
Heat oven to 425°F. Line cookie sheet with cooking parchment paper. In large bowl, stir Bisquick mix, sugar and cocoa. Cut in butter, using pastry blender (or pulling 2 table knives through ingredients in opposite directions), until mixture looks like coarse crumbs. Stir in 1 cup of the chocolate chips.
In small bowl, mix 1/3 cup whipping cream, the vanilla and egg. Add to crumb mixture, stirring with fork until soft dough forms. On cookie sheet, pat dough into 8-inch round. Cut into 10 wedges, but do not separate wedges.
Bake 15 minutes or until set. Cool 10 minutes; carefully separate wedges.
In small microwavable bowl, microwave 2 tablespoons whipping cream and remaining 1/2 cup chocolate chips uncovered on High 30 to 60 seconds or until chips can be stirred smooth. Drizzle over scones.
Nutrition Facts : Calories 415, Carbohydrate 44 g, Fat 5, Fiber 0 g, Protein 5 g, SaturatedFat 14 g, ServingSize 1 Serving, Sodium 386 mg
Recently Recipes
More about "chocolate scones food"
Related Search