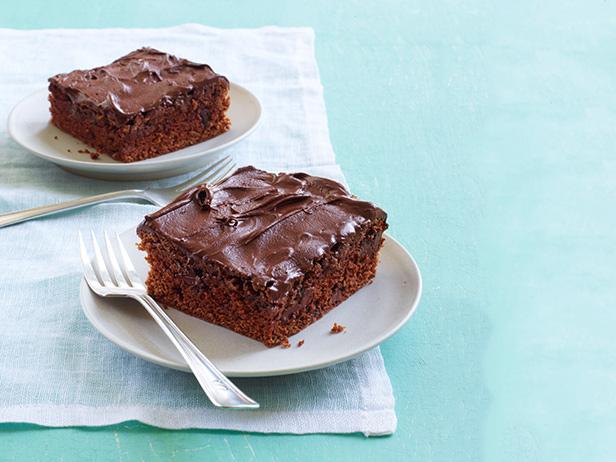 Provided by Food Network Kitchen
Categories dessert
Time 1h
Yield 6 to 8 servings
Number Of Ingredients 13
Ingredients:
Unsalted butter, for the pan
1 1/2 cups all-purpose flour, plus more for the pan
1/2 cup plus 1/3 cup semisweet chocolate chips
1/4 cup unsweetened cocoa powder (not Dutch process)
1/2 teaspoon kosher salt
1/2 teaspoon baking soda
1/4 teaspoon ground nutmeg or allspice
1 1/4 cups sugar
1/2 cup plus 1 teaspoon extra-virgin olive oil
2 large eggs
1/2 teaspoon vanilla extract
1 medium zucchini, grated and squeezed dry
1 teaspoon honey
Steps:
Preheat the oven to 350 degrees F. Butter the bottom and sides of a 9-inch-square cake pan. Dust the pan with flour, tapping out the excess.
Toss 1/2 cup chocolate chips with 1 tablespoon flour in a small bowl. Whisk the remaining flour, the cocoa powder, salt, baking soda and nutmeg in a medium bowl; set aside.
Beat the sugar, 1/2 cup olive oil, the eggs and vanilla in a large bowl with a mixer on medium speed until smooth and pale, about 3 minutes. Add the flour-cocoa mixture; beat on low speed until combined, about 2 minutes (the batter will be thick). Add the zucchini and beat until combined, about 2 more minutes. Fold in the flour-coated chocolate chips with a wooden spoon.
Transfer the batter to the prepared pan and bake until a toothpick inserted into the center comes out clean, 30 to 35 minutes. Transfer to a rack and let cool completely.
Make the glaze: Combine the remaining 1/3 cup chocolate chips, 1 teaspoon olive oil and the honey in a microwave-safe bowl. Microwave on medium-high power in 30-second intervals, stirring, until the chocolate is melted. Spread over the cake, then cut into pieces.
Ingredients:
2 1/4 cups sifted all purpose flour
1/2 cup unsweetened cocoa powder
1 teaspoon baking soda
1 teaspoon salt
1 3/4 cups sugar
1/2 cup (1 stick) unsalted butter, room temperature
1/2 cup vegetable oil
2 large eggs
1 teaspoon vanilla extract
1/2 cup buttermilk
2 cups grated unpeeled zucchini (about 2 1/2 medium)
1 6-ounce package (about 1 cup) semisweet chocolate chips
3/4 cup chopped walnuts
Steps:
Preheat oven to 325°F. Butter and flour 13 x 9 x 2-inch baking pan. Sift flour, cocoa powder, baking soda and salt into medium bowl. Beat sugar, butter and oil in large bowl until well blended. Add eggs 1 at a time, beating well after each addition. Beat in vanilla extract. Mix in dry ingredients alternately with buttermilk in 3 additions each. Mix in grated zucchini. Pour batter into prepared pan. Sprinkle chocolate chips and nuts over.
Bake cake until tester inserted into center comes out clean, about 50 minutes. Cool cake completely in pan.
Recently Recipes
More about "chocolate zucchini cake food"
Related Search