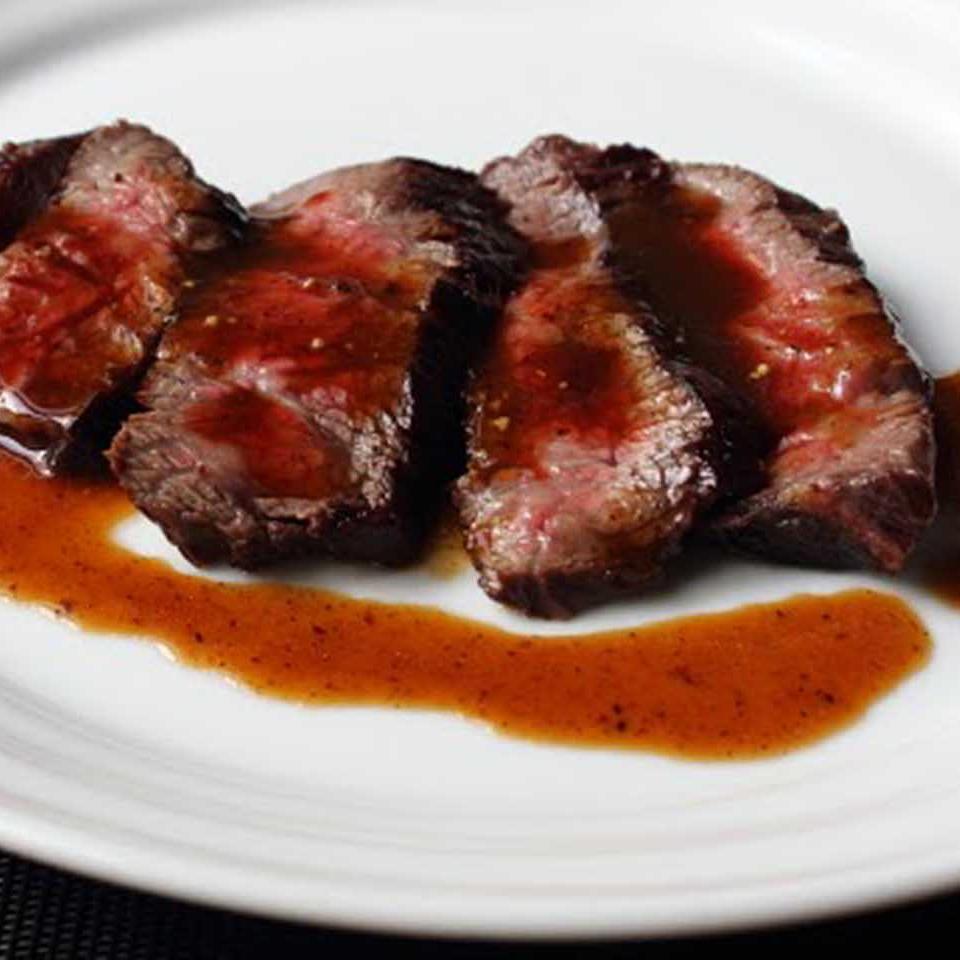 This is my technique for veal demi-glace, and there's not much to it. I'm going for a pure veal stock reduction, fortified with nothing more than mirepoix and tomato. I don't do the classic roux-based espagnole sauce, which is traditionally mixed with veal stock and reduced by half.
Provided by Chef John
Categories Side Dish Sauces and Condiments Recipes Sauce Recipes
Time P1DT5h15m
Yield 36
Number Of Ingredients 8
Ingredients:
10 pounds veal bones (joint and marrow bones)
1 tablespoon vegetable oil
3 onions, cut into eighths
4 carrots, cut into 2-inch pieces
4 ribs celery, cut into 2-inch pieces
1 (6 ounce) can tomato paste
10 quarts cold water
2 cups cold water
Steps:
Preheat oven to 450 degrees F (230 degrees C). Place veal bones in a roasting pan.
Roast bones in the preheated oven until well-browned, about 75 minutes.
While bones are roasting, drizzle oil onto a baking sheet. Spread onion, carrots, and celery onto baking sheet; spread tomato paste over the vegetables and mix to coat.
Roast vegetable mixture in the preheated oven until vegetables are well-browned, about 45 minutes.
Transfer vegetable mixture and bones to a large stockpot. Pour 10 quarts water into stockpot.
Pour 2 cups water into the bones roasting pan, set the pan over high heat, and bring to a boil while scraping the browned bits of food off of the bottom of the pan with a wooden spoon. Pour liquid into the stockpot with the bones.
Bring bones, vegetables, and water in the stockpot to a boil, reduce heat to low, and simmer gently, skimming foam as necessary, until meat and all connective tissue is completely off the bones, about 18 hours.
Set a colander over a bowl and ladle vegetables, bones, and meat into colander. Discard vegetables, bones, and meat; return any broth to the stockpot.
Bring broth to a boil; cook at a boil until liquid reduces to approximately 1 gallon in volume, 30 minutes to 1 hour.
Strain broth through a fine-mesh strainer into a large container set in an ice bath; chill to room temperature. Cover the container with a lid or plastic wrap and chill in the refrigerator until demi-glace is cold and set, 8 hours to overnight.
Scrape and discard any fat from the surface of set demi-glace. Turn demi-glace out onto a work surface. Cut into 16 blocks, wrap each block in plastic wrap, and place wrapped blocks in a resealable plastic bag. Store in the freezer.
Nutrition Facts : Calories 19.2 calories, Carbohydrate 3.6 g, Fat 0.5 g, Fiber 0.8 g, Protein 0.5 g, SaturatedFat 0.1 g, Sodium 57.6 mg, Sugar 1.9 g
Recently Recipes
More about "demi glace food"
Related Search