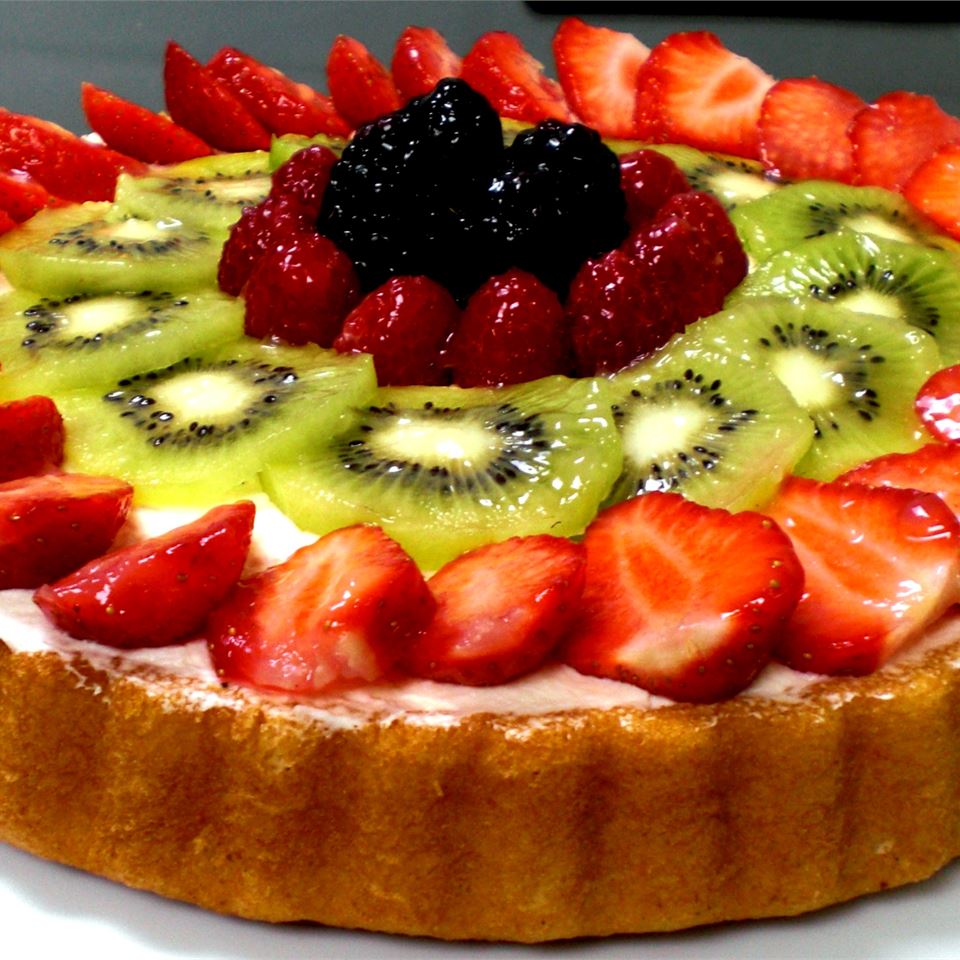 A beautiful fresh fruit dessert, this is not your regular 'fruit pizza.' This recipe was given to me by a great cook and great friend. You can substitute your favorite fruits or berries for those in this recipe.
Provided by Aunt Jeannie
Categories Desserts Pies Fruit Pie Recipes Blueberry Pie Recipes
Time 1h42m
Yield 12
Number Of Ingredients 20
Ingredients:
2 ⅛ cups all-purpose flour
½ teaspoon cream of tartar
½ teaspoon baking soda
½ cup white sugar
½ cup confectioners' sugar
½ cup butter
½ cup vegetable oil
1 egg
½ teaspoon vanilla extract
1 (8 ounce) package cream cheese, softened
⅓ cup white sugar
½ teaspoon vanilla extract
3 cups fresh strawberries, hulled and halved
1 cup fresh blueberries, rinsed and dried
3 kiwifruit, peeled and thinly sliced
1 tablespoon cornstarch
¼ cup white sugar
½ cup water
½ cup orange juice
2 tablespoons lemon juice
Steps:
Preheat oven to 350 degrees F (175 degrees C). Grease a 10-by-15 inch jelly roll pan.
For the crust, sift together the flour, cream of tartar, and baking soda into a mixing bowl. In a separate bowl, cream together white and confectioners' sugars, butter, vegetable oil, egg, and vanilla. Add the dry ingredients. Blend well. Spread the dough evenly on the bottom of the greased pan. Bake until golden brown, 10 to 12 minutes. Allow to cool completely.
For the filling, cream together the cream cheese, sugar, and vanilla. Spread over the cooled crust. Arrange the fruit on the cream cheese filling and refrigerate.
For the glaze, mix together the sugar and cornstarch in a small saucepan. Whisk in the water, orange juice, and lemon juice. Bring to a boil over medium heat; boil gently for one minute. Remove from heat and allow to cool completely.
Spoon or brush the glaze evenly over the fruit. Refrigerate until ready to serve.
Nutrition Facts : Calories 429.7 calories, Carbohydrate 50.1 g, Cholesterol 56.4 mg, Fat 24.2 g, Fiber 2.3 g, Protein 4.9 g, SaturatedFat 10.6 g, Sodium 170.1 mg, Sugar 29 g
TRADITIONAL GERMAN OBST KUCHEN - FRESH FRUIT FLAN (SPONGE CAKE)
Traditional German Obst Kuchen is a Fresh Fruit Flan with a sponge-type cake base, sometimes with a thin layer of custard, topped with fresh fruit and then sealed with a fruit glaze. Obst Kuchen is very typically served throughout Germany during the afternoon coffee hour, with dollops of freshly whipped cream. One of my favorite toppings is fresh whole strawberries with a red currant or strawberry glaze. Fresh raspberries or other fresh or canned fruits such as kiwis, apricots, cherries, gooseberries, and pineapple are also popular. The traditional pan used is a 10-inch German flan pan, however a torte or springform pan would also work. Adapted from my friend Maite C's Obst Kuchen Boden recipe that was given to me when we were stationed at Ft. Campbell KY.
Provided by BecR2400
Categories Dessert
Time 35m
Yield 1 German Obst Kuchen, 8 serving(s)
Number Of Ingredients 11
Ingredients:
1/4 lb margarine or 1/4 lb butter, softened
2 eggs, separated
1/4 lb sugar (150 grams or 1/2 cup plus 3 tablespoons sugar)
1/4 lb flour (150 grams or 1/2 cup plus 3 tablespoons flour)
1 (1/4 ounce) packet dry yeast
1 teaspoon vanilla (or 1 tablespoon vanilla sugar)
1/2 cup milk (approximate)
2/3 cup prepared custard (optional)
2 -3 cups fresh fruit such as strawberries (or kiwis, apricots, cherries)
1/2 cup fruit jam mixed with a little water, to glaze (red currant, strawberry or apricot jam)
freshly whipped cream, to serve
Steps:
Preheat oven to 350 degrees F.
In large bowl, beat yolks. Add sugar, softened margarine and yeast. Mix well.
Add flour, then vanilla and mix well.
In separate bowl beat egg whites until stiff. Add egg whites to flour mixture - then gradually mix in enough milk to give a soft dropping consistency.
Grease German flan pan. Add dough to greased pan, spreading evenly with a spatula.
Bake at 350F degrees for about 20 minutes until tests done with a toothpick.
Remove from oven. Cool in pan on a rack for 15 minutes, then invert on a cake plate or other large plate.
Arrange fresh berries or other fresh or canned fruits (kiwi slices, pineapple, gooseberries, apricots, and cherries are nice) on top of the inverted sponge cake (note: you may add a thin custard layer prior to filling with fruit, if you wish). Spread your favorite fruit glaze over the top of the fruit (may use a clear glaze or use strawberry or red currant jelly, or apricot jam). Chill until serving time.
Serve with dollops of fresh whipped cream, and a cup of coffee. Enjoy!
Nutrition Facts : Calories 252.3, Fat 13.5, SaturatedFat 2.8, Cholesterol 55, Sodium 160.2, Carbohydrate 29.1, Fiber 1.3, Sugar 16, Protein 4.2
Recently Recipes
More about "fresh fruit flan food"
Related Search