ROASTED POTATOES WITH BACON, CHEESE, AND PARSLEY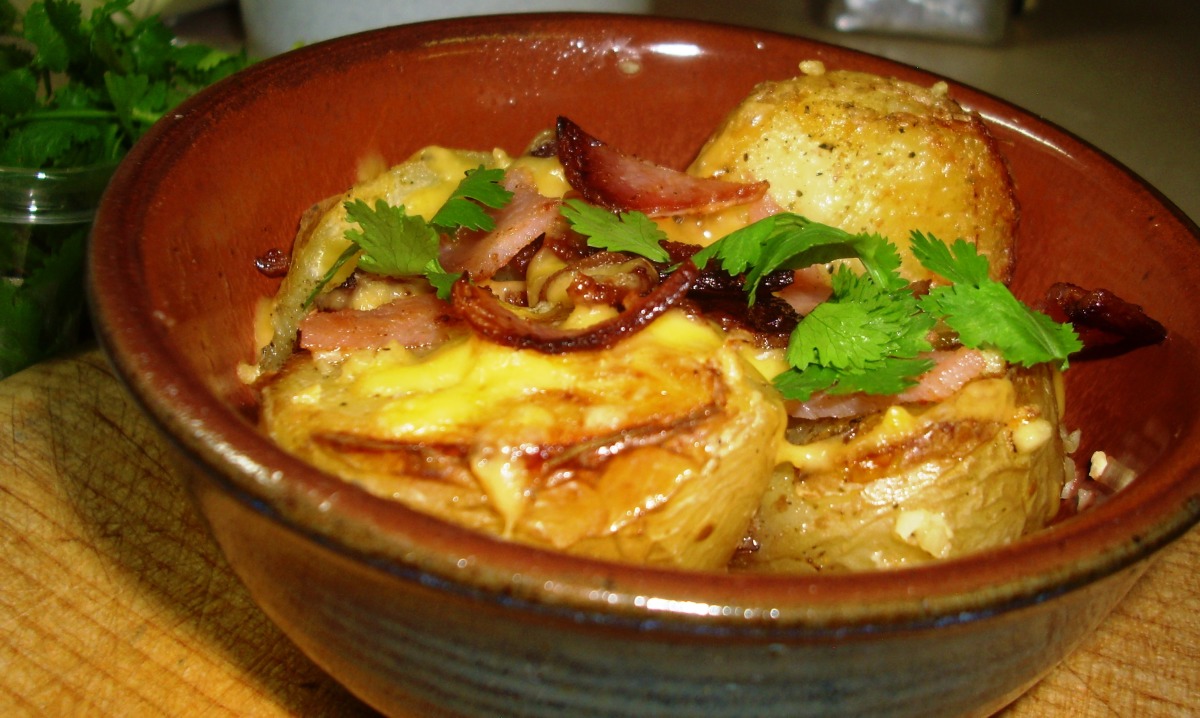 Ohhh are these good. I made them a couple of days ago and loved them. From Nov 07 Bon Appetit. Prep includes cooking potatoes.
Provided by MarraMamba
Categories Potato
Time 1h15m
Yield 8 serving(s)
Number Of Ingredients 6
Ingredients:
3 lbs medium yukon gold potatoes (about 3 inches in diameter)
6 ounces bacon, halved lengthwise, then cut crosswise into 1/2-inch pieces (about 6 slices)
2 tablespoons olive oil
1/2 cup grated parmigiano-reggiano cheese
2 garlic cloves, finely chopped
1/4 cup chopped flat leaf parsley
Steps:
Preheat oven to 425°F with rack in lowest position.
Generously cover potatoes with cold water in a 4-quart pot and add 1 tablespoon salt. Bring to a boil, then simmer, partially covered, until potatoes are just tender when pierced with a small sharp knife, about 12 minutes. Drain. Cool potatoes to warm, then peel and cut in half crosswise.
Cook bacon in a 12-inch heavy skillet over medium heat, stirring, until cooked through but still flexible. Drain on paper towels, reserving fat in skillet.
Brush bottom of a 15- by 10-inch shallow baking pan with oil and half of reserved bacon fat. Sprinkle potatoes with 1/2 teaspoon salt and 1/4 teaspoon pepper and arrange, cut sides down, in baking pan. Bake until undersides are golden brown, 30 to 35 minutes.
Reduce oven temperature to 375ºF. Turn potatoes over, then sprinkle with cheese, bacon, and garlic and drizzle with remaining bacon fat (if fat congeals, reheat briefly over medium heat). Bake until cheese is melted, about 15 minutes. Sprinkle with parsley.
Cook's notes:
• Potatoes can be boiled and peeled 1 day ahead and chilled in an airtight container.
• Potatoes, without cheese, bacon, garlic, and bacon fat, can be baked 6 hours ahead and kept, loosely covered, at room temperature. Turn potatoes over and proceed with recipe, baking a little longer. If baking at same time as stuffing, leave oven temperature at 425°F.
Recently Recipes
More about "roasted potatoes with bacon cheese and parsley food"
Related Search