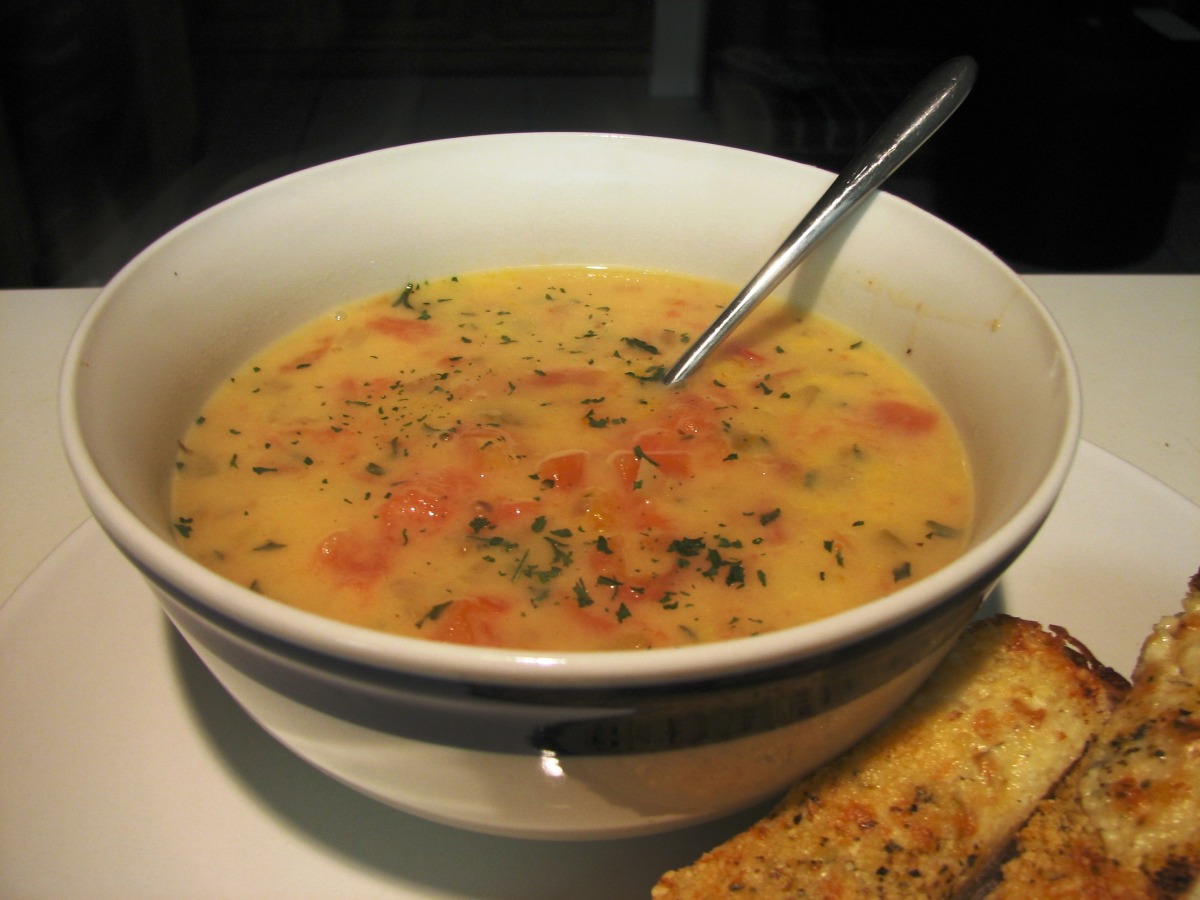 Make and share this Tomato Chowder recipe from Food.com.
Provided by maryjane in spain
Categories Chowders
Time 50m
Yield 8-10 serving(s)
Number Of Ingredients 15
Ingredients:
2 cups potatoes, diced
3/4 cup onion, minced
1 cup celery, chopped
3 cups tomatoes, de-skinned, chopped
1/4 teaspoon pepper
1/4 teaspoon oregano
2 1/2 cups boiling water
3 tablespoons butter
1/4 cup flour
1 teaspoon Worcestershire sauce
1 1/2 teaspoons salt
1 1/2 cups extra-sharp cheddar cheese, grated
2 cups milk
1 tablespoon parsley
1/2 teaspoon dry mustard
Steps:
Combine the first 7 ingredients in a large saucepan. Bring to a boil, reduce heat and simmer until vegetables are tender (approx. 15 min).
Make a double boiler by placing a glass bowl over a pot of simmering water, making sure that the water does not touch the bowl.
Add butter and stir while it melts. Sprinkle in flour, salt, pepper and mustard. Add milk all at once. Stir in Worcestershire sauce and continue stirring until smooth.
Add cheese and stir until cheese has melted and sauce is thick.
Add to vegetables and bring to a boil.
Add parsley and serve piping hot.
Nutrition Facts : Calories 242.1, Fat 15.1, SaturatedFat 9.4, Cholesterol 46, Sodium 675.3, Carbohydrate 17.5, Fiber 2.2, Sugar 3.2, Protein 10.3
TOMATO AND BACON CLAM CHOWDER
Ingredients:
2 slices bacon, chopped
1 small onion, chopped fine
1 celery rib, chopped
1 garlic clove, minced
1 1/2 dozen small hard-shelled clams, shucked, reserving 1/2 cup liquor, and chopped
1/3 cup dry white wine
1 cup water
2 teaspoons tomato paste
1 small boiling potato
2 medium vine-ripened tomatoes, seeded and chopped
2 tablespoons finely chopped fresh parsley leaves
Steps:
In a 1 1/2-quart saucepan cook bacon over moderate heat until crisp and transfer with a slotted spoon to paper towels to drain. In fat remaining in pan cook onion, celery, and garlic with salt and pepper to taste over moderately low heat, stirring, until softened.
In a bowl whisk together reserved clam liquor, wine, water, and tomato paste and add to onion mixture. Peel potato and cut into 1/2-inch pieces. Add potato and tomatoes to saucepan and simmer, covered, until potato is tender, about 15 minutes. Add clams and parsley and simmer, covered, 2 minutes.
Serve chowder sprinkled with bacon.
Recently Recipes
More about "tomato and bacon clam chowder food"
Related Search