Mucver (pronounced moosh-vair) are delicate, crisp zucchini pancakes popular in Turkey. This version has not just shredded zucchini, but also tiny clouds of feta and a sprinkling of minced fresh dill and scallions. They are crisp on the outside, tender within and subtly herbaceous. The trick to making the pancakes crisp and not soggy is to squeeze all the water out of the zucchini before mixing it with the other ingredients. A little brute force is required.
Provided by Elaine Louie
Categories dinner, quick, weekday, weeknight, pancakes, appetizer
Time 30m
Yield 12 pancakes
Number Of Ingredients 14
Ingredients:
3 medium zucchini (about 1 pound), shredded
Salt
freshly ground black pepper
3 large eggs, beaten
1/2 cup all-purpose flour
1 tablespoon extra virgin olive oil
1 cup crumbled feta cheese
3 scallions, finely chopped
1/3 cup finely chopped dill
1 teaspoon baking powder
4 to 6 tablespoons vegetable oil, more as needed
2/3 cup plain yogurt
2 cloves garlic, finely chopped
1/2 teaspoon salt
Steps:
Preheat oven to 250 degrees. Place zucchini in a colander over a bowl, and mix with 1/2 teaspoon salt. Allow to drain for five minutes. Transfer to a cloth kitchen towel, and squeeze hard to extract as much moisture as possible. Squeeze a second time; volume will shrink to about half the original.
In a large mixing bowl, combine zucchini and eggs. Using a fork, mix well. Add flour, 1/2 teaspoon salt, olive oil, feta, scallions, dill and 1/2 teaspoon black pepper. Mix well, add baking powder, and mix again.
Place a cast iron skillet or other heavy skillet over medium heat. Add 2 tablespoons vegetable oil and heat until shimmering. Place heaping tablespoons of zucchini batter in pan several inches apart, allowing room to spread. Flatten them with a spatula if necessary; pancakes should be about 3/8 inch thick and about 3 inches in diameter. Fry until golden on one side, then turn and fry again until golden on other side. Repeat once or twice, frying about 5 to 6 minutes total, so pancakes get quite crisp. Transfer to a plate lined with paper towels, and keep warm in oven. Continue frying remaining batter, adding more oil to pan as needed. Serve hot.
For yogurt sauce: In a small bowl, combine yogurt, garlic and salt. Mix well, and serve on the side or on pancakes.
Nutrition Facts : @context http, Calories 151, UnsaturatedFat 8 grams, Carbohydrate 7 grams, Fat 11 grams, Fiber 1 gram, Protein 5 grams, SaturatedFat 3 grams, Sodium 244 milligrams, Sugar 3 grams, TransFat 0 grams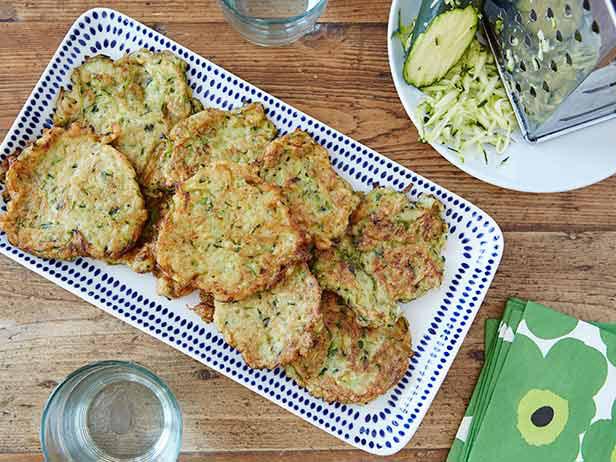 Provided by Ina Garten
Categories side-dish
Time 24m
Yield 10 (3-inch) pancakes
Number Of Ingredients 8
Ingredients:
2 medium zucchini (about 3/4 pound)
2 tablespoons grated red onion
2 extra-large eggs, lightly beaten
6 to 8 tablespoons all-purpose flour
1 teaspoon baking powder
1 teaspoon kosher salt
1/2 teaspoon freshly ground black pepper
Unsalted butter and vegetable oil
Steps:
Preheat the oven to 300 degrees F.
Grate the zucchini into a bowl using the large grating side of a box grater. Immediately stir in the onion and eggs. Stir in 6 tablespoons of the flour, the baking powder, salt, and pepper. (If the batter gets too thin from the liquid in the zucchini, add the remaining 2 tablespoons of flour.)
Heat a large (10 to 12-inch) saute pan over medium heat and melt 1/2 tablespoon butter and 1/2 tablespoon oil together in the pan. When the butter is hot but not smoking, lower the heat to medium-low and drop heaping soup spoons of batter into the pan. Cook the pancakes about 2 minutes on each side, until browned. Place the pancakes on a sheet pan and keep warm in the oven. Wipe out the pan with a dry paper towel, add more butter and oil to the pan, and continue to fry the pancakes until all the batter is used. The pancakes can stay warm in the oven for up to 30 minutes. Serve hot.
Ingredients:
1 1/2 pounds zucchini (about 3 large)
1 teaspoon salt
1/4 cup thinly sliced red onion
1 large egg
3/4 cup coarse fresh bread crumbs
vegetable oil for brushing skillet
Steps:
Grate zucchini on the largest holes of a grater into a colander and combine well with salt. Let zucchini drain 30 minutes.
Preheat oven to 200°F.
Using hands, squeeze as much liquid from zucchini as possible. In a bowl stir together zucchini, onion, egg, bread crumbs, and pepper to taste until combined well.
Lightly brush a 12-inch non-stick skillet with oil and heat over moderately high heat until hot but not smoking. Drop four 1/8-cup measures of zucchini mixture into skillet and with a spatula flatten into 1/4-inch-thick pancakes. Cook pancakes 2 to 3 minutes on each side, or until golden and cooked through, transferring pancakes to an ovenproof plate. Keep pancakes warm in oven while making more pancakes in same manner.
Recently Recipes
More about "zucchini pancakes food"
Related Search